Do you want to upgrade your closet storage systems to something that is durable and custom to your needs?  In this tutorial, I'm going to show you how we tackled a small reach-in closet, adding shelving and multiple hanging storage options.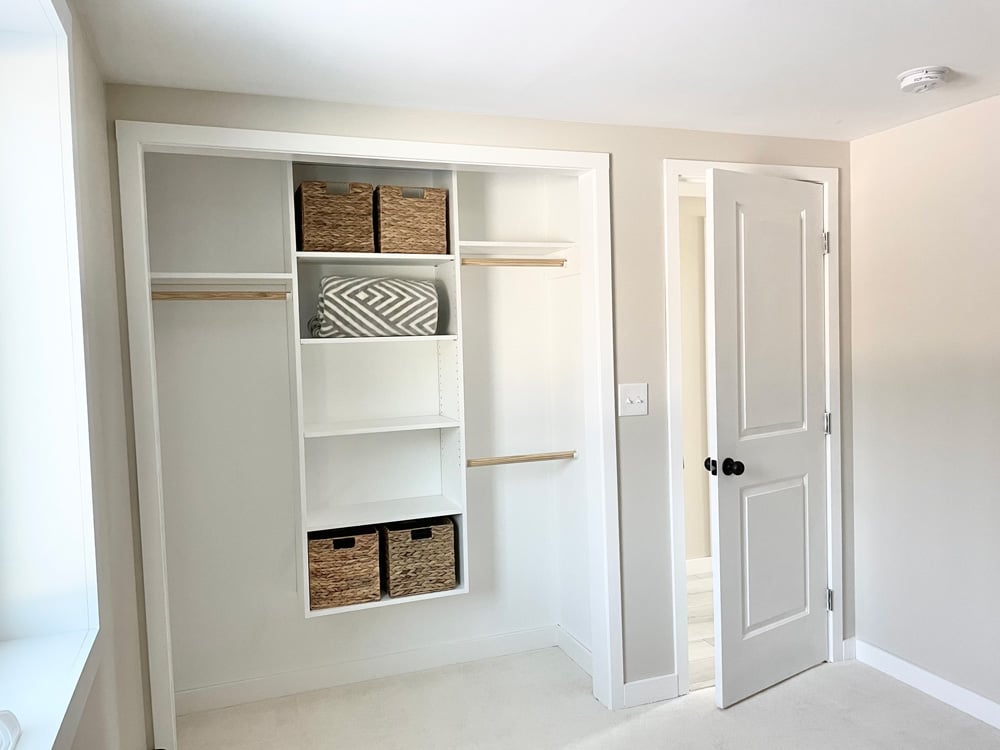 Towers are such a great way to break up closet spaces.  The days of one long hanging rod are over – it is so much more functional to break up hanging space to sort items, and to increase folding space.
Here's what we love about this closet:
Off the floor, so easy to clean under and space could be used for totes, baskets or shoes
No need to remove baseboards under closet or cut around
Attached to top plate in wall, so easy to hang without drywall anchors or finding studs
Storage all the way to the ceiling
Smaller hanging areas to help sort out different hanging items (for example, short sleeves on one, long sleeves on the other)
Plenty of easy to reach folding space
Can be designed to fit specific baskets
Divided out upper space for lesser used items
High quality construction will last forever (not particle board!)
Can be changed up, reconfigured, added on since it's real wood
Can be repainted or finished since it's a home finish and not a plastic sticker finish
Easy to customize for the space
Watch Me Build This with Basic Tools!
We did a fun video on this closet build that you can watch here.
And also created a plan to help further explain the steps.  The plans follow (scroll down).  Thank you for watching and using our plans, please share photos of your completed projects, we do love seeing your work!