We are building a cabin style house in Alaska to resale.  It is very small, every square foot is extremely valueable.
A pantry is a must have on any house I build.  I design my kitchens to hold tools (dishes, mixing bowls, pots and pans, cutting boards, etc) and spices and coffee.  That's it. Everything else goes in the pantry.  Yes, everything.  If it regularly rotates out, it needs to be on open shelving in the pantry.  That way you don't end up with expired cans in deep drawers or moldy bread at the back of the shelf.  Or maybe worse, you can't access and inventory what you have quickly and easily.
Even though this house is small, we made sure to include a pantry right in the middle of the kitchen.
This week, we are tackling the pantry shelving.  We want to put the right shelving in that can last a lifetime and won't need to be ripped out or changed later.  You might as well do it right the first time, it saves you time and money in the long run.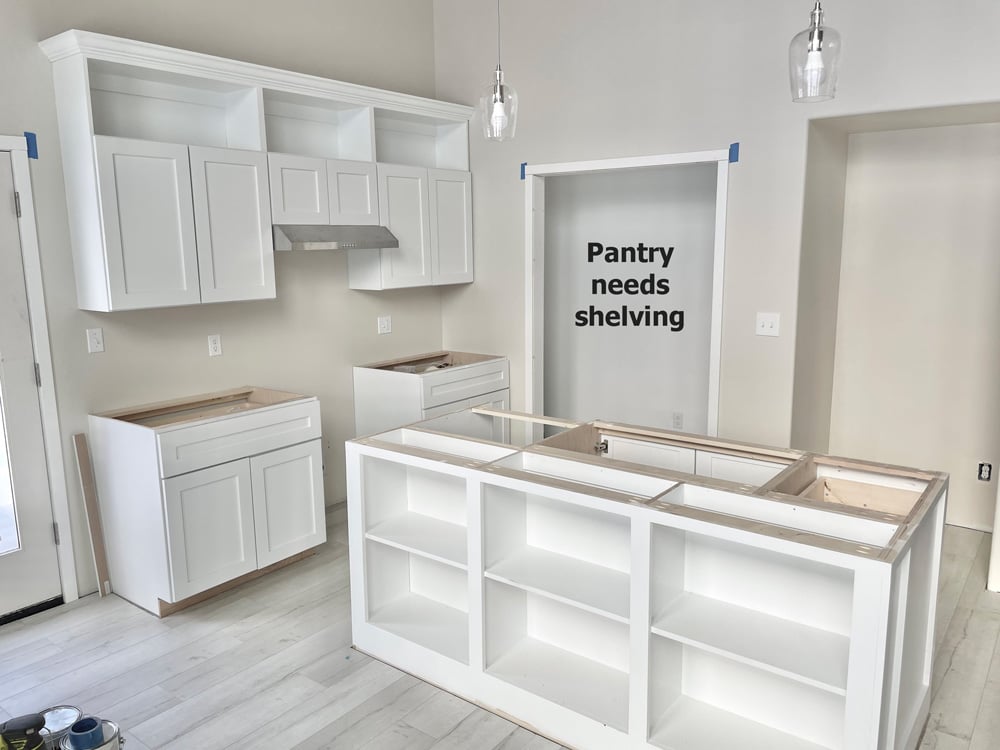 Related: Want to see this kitchen get built?  Check out our other Cabin House Build posts.
Here's what we came up with as a final result:
And an inside look. 
It was some work to add the corner, but it was worth it for the more accessible storage. 
We did a build video on this pantry:
Video coming soon
And the free, easy to customize (for yes, YOUR space) is here using our Shelf Help Configurator.
Let us know what you think of this project and if you love it, build it and share a photo!
Thanks!
Ana