One of my friends wanted to hang stockings for Christmas, but doesn't have a fireplace.  She didn't want to build an entire mantle, and didn't want to drill holes in her wall to hang a stocking shelf.
So I built her a stocking stand!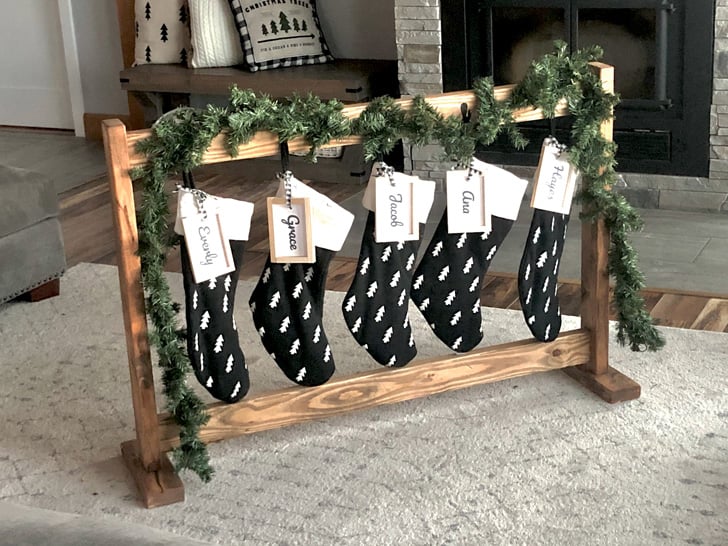 Stocking Stand Features
Quick and easy DIY project
Only cost about $20 to build
Just cut 2x4s and screw together
Sturdy and stable – doesn't feel flimsy or cheap
Beautiful farmhouse style wood tones will add texture to your home
Can lengthen easily or add more hooks for more stockings
Customize the stain color to match your home's style
Stocking Stand Video Tutorial
To help you build your own stocking stand, I also put together a video tutorial of the build process, so you can watch and use it to help you make your own stocking stand.
Is there a tutorial for the stocking name tags?
YES! To make this stocking stand even more special, I made stocking name tags (tutorial here).
The name tags were very easy to make and really took the project to the next level! So much cheaper than buying personalized Christmas stockings, and so easy to change out.  
Stocking Stand Tutorial
This tutorial is completely free!  Please just share a photo when you are done, you can tag me @anawhitediy on Instagram or share a brag post on this website by clicking the Red Button at the top right.